Paques India signs contract with Dev Priya Industries to design, supply & commission BIOPAQ® Technology in the presence of both the teams of Dev Priya Industries & Paques at Paques India booth at PAPEREX 2022.
Seen in the picture are Mr. Mahendra Gupta, Managing Director, Mr. Amit Gupta, Technical Director of Dev Priya Industries Pvt. Ltd. and Mr. Sudeep Sangameswaran, Managing Director of Paques Environmental Technology India Pvt. Ltd. exchanging the contract.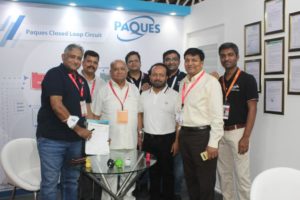 Using Paques' next-generation robust BIOPAQ® Technology, the ETP (Effluent Treatment Plant) at Dev Priya will operate in a closed-loop system that will allow them to produce odour-free paper & reduce freshwater usage. Apart from odourless paper, this project will allow Dev Priya to utilize Biogas to the Boiler whilst reducing the Coal Consumption. Thus, the plant will be able to operate sustainably and contribute to a circular economy.